I'm a little bit nervous about the content of this post as I only remember a few things. I travelled all the way to the south of Sri Lanka to finally meet my friends which resulted in us drinking all the gin supply of Sri Lanka.
My friends are Zoli and Andi whom I will call Zandi from now on as I don't want to write their names separately every time I mention both of them. I also don't want to overuse the word 'my friends'. So Zandi were already in Sri Lanka for 3 weeks when we met and it was time to roam together on this wonderful island. They'd already done most of the usual tourist stuff which I'll write about later when I do the same. The place to meet was pretty much agreed on only the date was questionable. I had to get from Colombo to a seaside town called Tangalle. It was only 190km from Colombo. With the Shinkansen ultrafast train, it would have taken me just 1 hour, but here in Sri Lanka, it meant 6 hours. Unlike in India, I managed to get the train tickets very easily. I had to book only 2 days in advance and since I'm a rich western tourist I bought a first-class ticket. I didn't really want to spend 6 hours in a cow wagon otherwise known as 2nd and 3rd class. I got my first-class ticket for 1200Rs (£6) which is shitnothing. I got a tuktuk at 6am in the morning to get to the station. On the platform I joined the other 'where the hell is the first-class carriage' thinking tourists. After couple of minutes of wandering around a local man who was selling keychains hurried to help us and showed us where the first class carriage would end up on the platform once the train was in.
The first class isn't anything like the first class on the Orient Express where you get your own butler. There were 18 seats, 3 fans on the ceiling and a few windows to open. I would really like to have a chat with the guy who did the upholstery as to why he thought it was a good idea to use faux leather seats on the trains in Sri Lanka. In spite of the effort of the 3 fans it was still 40 degrees in the wagon. I shared my sweat with the other passengers and so did they. At every station chilled water and other refreshments were sold so I guess it was a mutual agreement with the vendors. After 20 minutes I gave up struggling with the heat and I went looking for new solutions. The open wagon door looked like the best solution, so while I kept myself cool I had the chance to admire the scenery while travelling with an enormous speed of 30mph. I didn't leave my place as I saw others having the same thought. That's mine, look for another door! The landscape, however, was beautiful. The tracks are laid down along the coastline. I guess back than it was easier to connect the towns with the harbour this way. Halfway through we reached Galle of which I didn't see much but at least we got a new locomotive which was no better than the previous one and since it was attached to the first class wagon it completely obstructed the panoramic view but at least pushed the smoke into our face through the open windows. The value of the open door had increased dramatically. I stood my grounds and I didn't move for 5 and a half hours.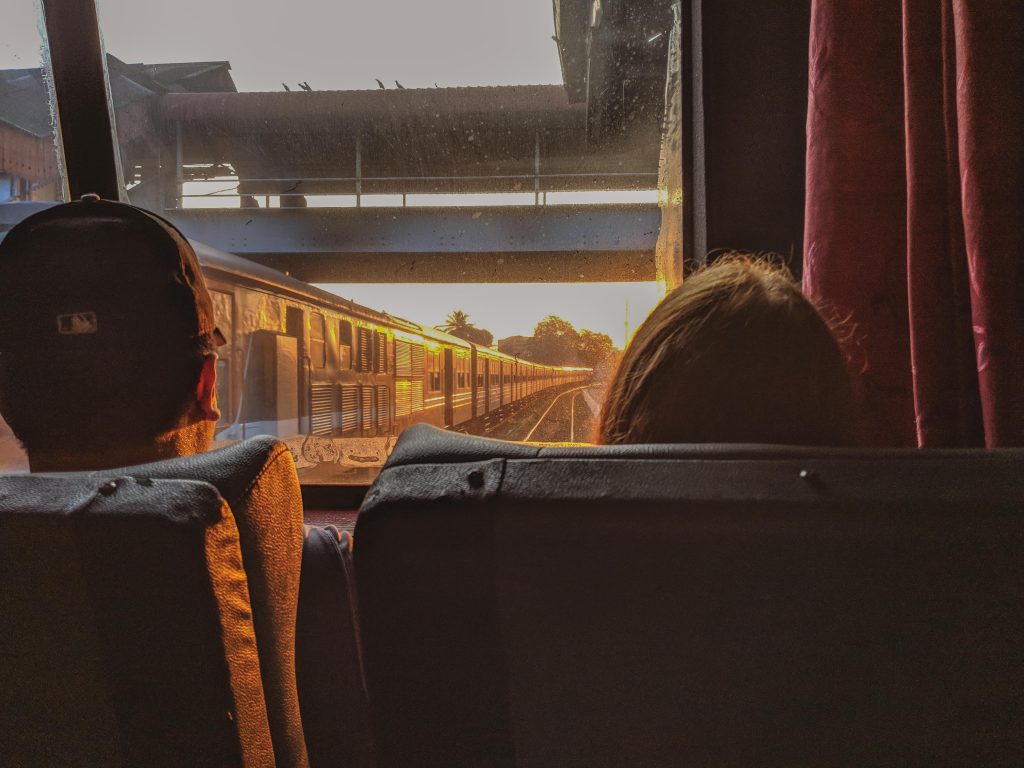 The train only took me up to Matara from where I had two options. Either an hour and a half bus ride for 40Rs (15pence) or 40 minute taxi ride for 2000Rs (£9). Since I couldn't wait any longer to see Zandi I took a taxi. The driver didn't know the place I was going to but after half an hour asking around we found the place. I arrived to the infamous Lucky Beach.
Ok, so let's see why this place was so important to us that we would travel half way through the planet to be there. About 6 months ago I read an article on a Hungarian online newsportal which was taken was from the Guardian. According to the article an English couple bought a place in Sri Lanka called Lucky Beach as they were so drunk. This story would be suspicious even in The Sun but living in England for 15yrs I had no doubt that a British couple would do something like that. But still, we wanted to be sure. When I was planning my travels for 2019 Sri Lanka wasn't even on my mind. But Zandi were so enthusiastic about my travels that they decided to travel too. So we set our minds to go to Sri Lanka and drink a shot of rum at that place. That was the idea. That's why we're here in Sri Lanka. To drink a shot of rum at Lucky Beach. Why not? That's a good enough reason for me. We, however, forgot to drink rum! So I must say we have to go back!
Zandi arrived a day earlier than me and they planned to stay for two nights. Once they arrived they were told there was no available room so they had to go to another place. Obviously, Zandi weren't happy as it fucked up our plans so they made a deal to get the other room much cheaper. They, however, could spend the following night at the place. This is important because the same thing happened to me. As I arrived I was told the same that I had to go somewhere else. I told the guy that he had already done this to my friends so it wasn't funny. I agreed to stay in another place for cheaper but I would have the beer for free. He was just laughing at my proposal. Well, the following day he wasn't laughing. If he could remember at all.
I took his bike and rode to the other place. Then I went back and started drinking. This drinking lasted for 8 days solid. No water touched my lips from the first hug of Zandi till the last goodbye hug. Specifically, I lived on gin tonic and beer. They did pretty much the same. Meanwhile, the manager who reportedly sold the whole place showed up again. We laughed a lot that he did the same to us. He was apologetic and I carried on pushing my free beer idea. The point is that the news is true. He really sold the place to a British couple. More specifically he sold the rental right while he stayed and ran the place. We were not surprised. Seeing how the guy manages the place we could imagine anything. He didn't write down anything we ate or drank. Most of the day he was just not there. I mean he was there but his mind was off somewhere else. He was having a blast with the guests or chilled in the corner with a joint in his hand. He was a good fucked up guy. I wouldn't trust him looking after even a slice of bread. Meanwhile I kept pushing getting free beer. The reason why I emphasize this so much is because we really didn't pay for anything we drank that night. We only paid for the breakfast which we had the following day. We didn't argue as I felt I didn't have to prove what we had. I usually mention if the bill is not right but only if the waiter made an honest mistake. Anyway, the place is really cosy, it has its own beach and porch and stuff. The food and the selection of drinks were also great. It's a perfect spot to chill out and do shitnothing. It's a shame that the guy is a bit shady. I would be really interested to see the end of year report of this place…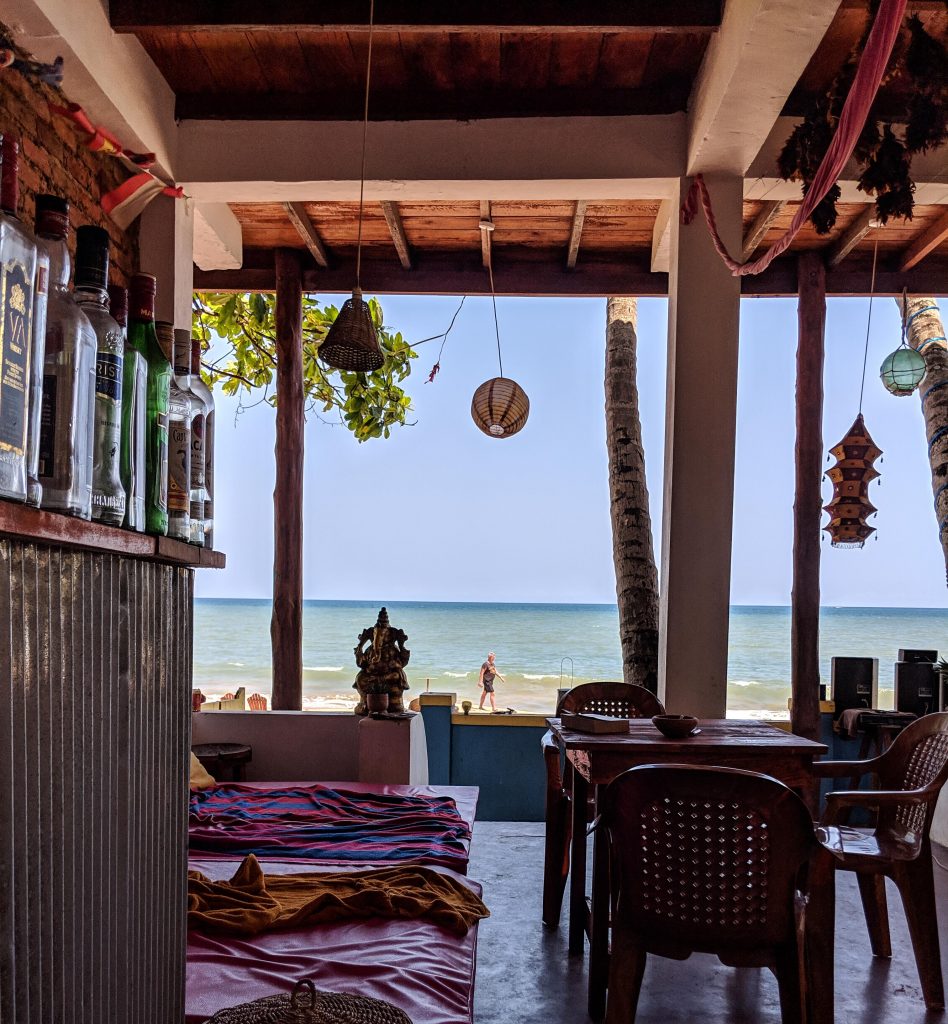 The following day we left Lucky Beach and travelled to a place called Hiriketiya. That was a paradise. Well I guess it still is. We planned to stay two nights but I ended up staying for 4. I had some unfinished business to be taken care of. We found two rooms in a cottage just opposite the shore run by a woman who lived there with her mum and her daughter. The village was actually built around a bay in the jungle and consisted of guesthouses and bars only. The waves were just about the right size for beginners. A real paradise for surfers. We spent most of the time wandering around between places especially between two. One was called The Groove and the other was Dots. When we got bored with one or one place ran out of gin we just moved to the other place. No kidding. We drank so much gin one night that The Groove just ran out of it. I think we drank around 18 gin tonics. It was full moon that night which meant usually no alcohol was served as it's a religious day (Poya) but for tourists sometimes they make exceptions. So I guess they weren't really expecting anyone to drink alcohol. They clearly didn't expect us. Once we were told the bad news we moved to the other place. But just to make sure we could definitely drink alcohol we took a bottle of vodka with us poured into a plastic water bottle. Prepare for the worst. We were right. We could only drink juices and our own vodka. We randomly ran into a live music gig which was surprisingly really good. We just sat there eating fresh tuna, drinking our vodka and listening to Bob Marly covers. (I wrote Marly on purpose as that's how they write it here). As soon as the music came to an end, around 11pm, the place became deserted as most of the guests were on yoga retreat or something like that. They had to get up early the following morning as the yoga class started like 6.30am. We didn't have any plans for 6.30am, apart from sleeping, so we were the last ones to leave.
On the way home Zoli was joking how he might have lost their key. In the end their key turned up but I couldn't find mine. I wasn't worried much at the beginning as I thought they must have a spare key somewhere. No, they didn't. The problem quickly became a serious fuckup as noone was at home except for the grandmother. She understood that I didn't have the key but I couldn't really explain to her that she should find the spare key. Or maybe she already knew that they didn't have one. Our communication became much more like a game of charade. She kinda wanted me to go back and somehow find the key which could have been anywhere on this beach. It went on for about 5 minutes. Then she began to say something about praying and temple. I'm happy to pray with you but it won't open the door. Then I somehow gathered that her daughter was in the temple praying and she had the key. Ok, let's go to church. She closed the front door and we left. On foot. I thought we would walk for a couple of minutes but after 10 minutes of walking in the jungle in pitch black I began to worry. I asked some local guys for help to translate as I really wanted to know what the hell was going on. They didn't get it either. After asking 3 guys I wasn't even sure that they didn't get what she was talking about or they just could not translate it. At the end I found a tuktuk and asked the driver to find out where she was going. To the temple. Great, let's get in and go by tuktuk.
The journey took 10 minutes. 10 mins by tuktuk is half an hour on foot. And she just left thinking it was a good idea to walk for half an hour. Once we arrived, she went straight into the temple. Not much later I saw all of them coming towards me. I thought she'd ask for the spare key and we could go back home. Nope. She dragged her daughter out in the middle of the prayer. That was when I started to feel terribly ashamed. I could have waited or slept somewhere else as it wasn't that important to drag them out on a Poya day. Sri Lankan people are really nice. They always smile at you but I never forgot that look on our host while walking out of the temple. I told her what had happened and she just ignored me and started walking back home. I convinced them it would be much easier to go by tuktuk and much faster too. After some growling they finally got in.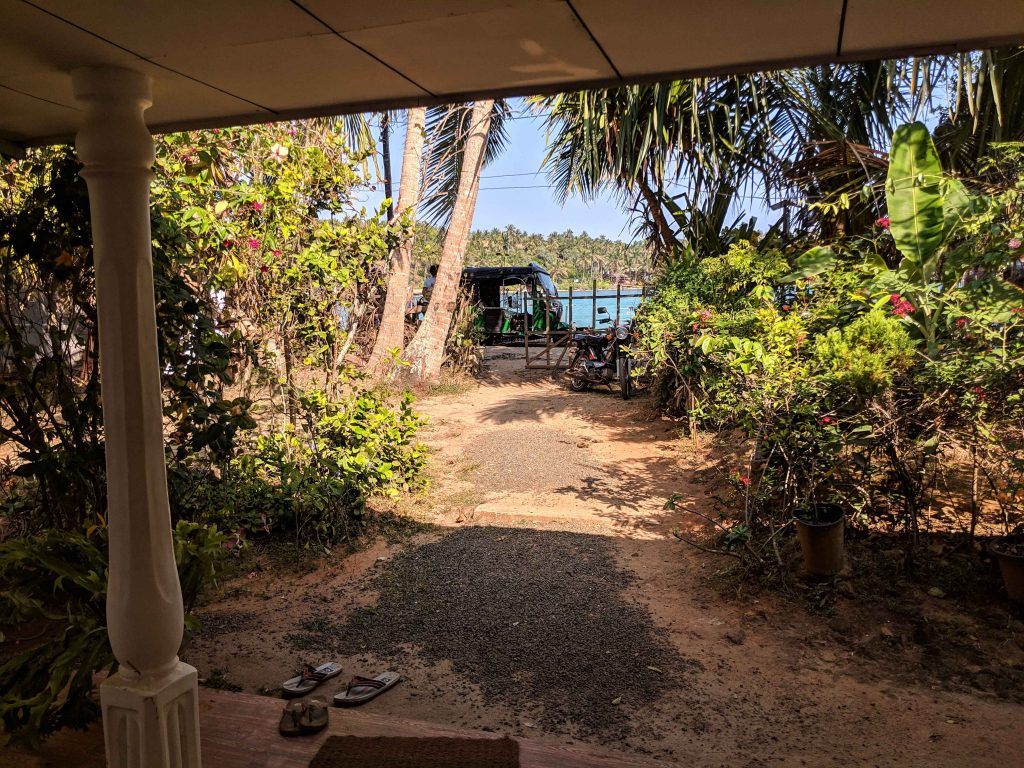 And as I suspected there wasn't any spare key. The daughter gave me a rusty knife to pry the door open. Wtf? I cannot open the door with that thing. I told her that I would sleep in the other room and we would find a solution the following day. And then something happened I would not forget soon. I found that fucking key. It was under my bag. I searched my bag at least 5 times but I couldn't find it. I have a pretty cool bag. I love it. It has so many pockets and zips and all that jazz. While I was looking for the key somehow it fell out and I didn't even notice as I was so anxious. Anyhow, I felt really really embarrassed. I couldn't stop apologizing for ruining their Poya day. I felt really shitty. But in the end I could get into my room and sleep comfortably. They didn't really look upset eitheras they were casually watching TV once I found the key. But, as we all know, karma is a bitch and I was sure I would regret that night. Karma showed what a real bitch she is not much later.
The following day Zandi had to leave their room and find another place as their room was booked for that night. We spent the day drinking more gin and tonic. We might have rented a bike and cycled around a bit. Ah, we went to a bank to exchange some money. Now that's a different story which I will write more about later as I'd like to dedicate a separate post to the burocracy in Sri Lanka.
We carried on drinking all day. A girl from London joined us so we could spend more money on gin and tonic. Zandi left around midnight and me and Lotti carried on drinking. We found the only place open at that time next to the beach in a shady hut. There were another 2 girls from England. The place was only open for us. They even managed to get us french fries at 2am! We got really wasted and if I remember correctly we went for a night swim. While we were skygazing I noticed something really strange. The sky was different to the one I used to see in Europe. We are so close to the Equator that the stars are in a different place in the night sky. The Orion constellation which usually sits on the horizon was up high in the sky. And the North star was on the horizon instead. We could also see some stars from the south side of the sky which is not visible in Europe. It was pretty interesting.
Around 3am it was time for us to leave. We said our goodbyes and I headed home for a good sleep. Well, that plan didn't work out as planned. The grandmother locked me out. Not on purpuse but she just forgot that I was out drinking. She locked the front door and I couldn't get in. I didn't want to wake them up, that would have been an insult after the previous night, so I had to find alternatives. I could have slept on the beach but I would have burned to shit in the morning once the sun rose around 6am. So I decided to sleep in Zandi's room. Luckily their room was open so I sneaked in. Somehow I wanted to let them know that I was in the room so I chose the worst possible method. Slowly, quietly approached their bed and very gently whispered a few words letting them know I was there. Zoli got up shouting, terribly frightened. What was I thinking I don't know. But I was solid drunk so I guess it explains my behaviour. Once he realised I wasn't there to kill them he offered me to sleep in the bed with them. I didn't think it would be fair so I chose to sleep on the floor. That's what I deserved. Karma is a bitch.
The following day Zandi left Hiriketiya and I stayed for another two days. Mainly because I wanted to spend another day with Lotti but mostly because I wanted to meet the owner of the Groove to interview him as I'd like to write an article about the place. So I spent the whole day at the Groove taking photos and getting to know the staff. I, again, became the place. I had a really good day. Chatting, drinking, eating, writing. I spent so much time and money there that at the end I was hardly paying for anything on my last day. Free breakfast and coffee. I got some extra gin and tonic, too! I ended up not meeting Lotti as she was struggling with hangover. And unfortunately I couldn't meet the owner either as he was busy running around. I told him that I would be back before I leave Sri Lanka.
The following day I left Hiriketiya too as I really missed Zandi and they missed me too. I got on a bus as I wanted to save some money after spending at least 2 weeks worth of pocket money in 4 days. It took me 5 hours and 100Rs (50 pence) to get to Unawatuna, another village on the beach.
In my next post I'll write about our scariest tuktuk journey ever and about a place which we turned into a house party scene and where we drank sooo much that even the bartender couldn't remember how much we drank actually.
Food, drinks, party