Hiriketiya was full of pretty looking surfers and healthy yoga chicks while Unawatuna was a bit more like a family resort with lots of jewelry stores. Shit loads of jewelry stores. I don't know why jewelry stores and Russian tourits go hand in hand, but wherever I've been so far, where there are Russians there are always diamond shops. The village is basically a stretch of shops and bars, which is good, and guesthouses. The beach is pretty much a vast open space rather than a cosy little bay. Endless restaurants all the way back and forth. We, however, loved the place as it was still relatively small. Our accommodation, according to Zoli, was one of the best during their stay. Our plan didn't change much. We were there to drink and eat more fish than we possibly could. No. It was the other way around. We were there to eat fish and drink more than we possibly could. A couple of days before I taught them a fun card game called 'Oh Hell' where you need to guess the exact the number of tricks you take. A bit similar to bridge but not quite the same. Fun fact: Bill Clinton is also a big 'Oh Hell' player. He learned from Steven Spielberg. Thanks wiki!
We rented a bike here too and tried to find a place called 'Secret Jungle beach' which was a hidden secret beach somewhere next to Unawatuna. Well, it was definitely hidden but not a secret at all. I like it when I find that guidebooks are promoting secret stuff. If you write about it it's not a secret anymore so shut the f..k up! It was jam packed with locals. Me and Andi went for a short swim since we were there and took the trouble to find the place but it wasn't majestic at all. After a half an hour we left the hidden secret place and headed back to our scooters. Which meant we had to climb back up to the top on a narrow footpath. On the top we bumped into a place where we could listen to some nice electro music. As our alcohol level was dangerously low, we decided to get a gin and tonic there. We saw 5 or six guys sitting around a table. We weren't sure if they worked there or they were only guests but in Sri Lanka these things don't really matter. You can ask any guy in a place for gin and tonic and you can be sure you get one sooner or later. I asked one of them to get our drinks. As they never say no he didn't say anything. They might have gin and tonic but they definitely didnt't have any ice. Or they just couldn't find it. It must have been a really good party the day before as they were still on it at 3pm on that day. As they couldn't give us what we wanted I was offered a warm shot of vodka mixed with arrack (local spirit) which I drank with delight. I wasn't worried about my hangover any more as I got a bit sick instantly.
One shot of that shit was enough for the three of us so we returned to our bikes and we rode back to the beach. We shot some funky videos of me trying to fly the smallest paper kite in the world. It wasn't a big success… But I tried. Since it was tea time or gin time, as we would like to call it, we found a restaurant sort of looking place right at the beach and drank 3 g&ts and had some snack while we were enjoying the sunset. I never ever in my life ate such delicious prawns. I tried to find out the secret ingredients but as the name suggested it was really a secret. Not like the beach. It was marinated in some secret herbs and then fried in butter. It was yummy. Since the sun was on the other side of the Earth we had to get up and find another place to drink. At the very end of the beach we found a dimly lit place where raggae music was playing. Everyone loves Bob Marley in Sri Lanka. Or as they like to write his name Bob Marly. We had a few arrack based coctails and had a chat with the owner. He was a laid-back guy, no surprise there, who lived in France for over a decade but since Sri Lanka was his home he had to return. Now he runs the bar. And he should really stock up with more Kahlua for next time.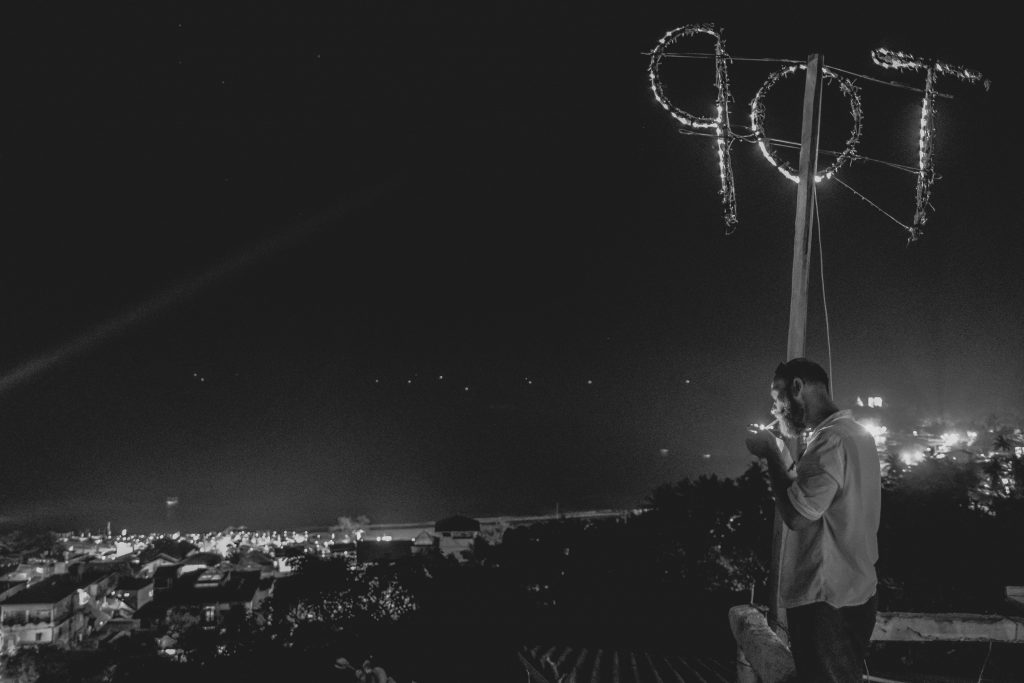 This last two posts are getting to look like a journal of an alcoholic. But that's what happens if you hang out with your friends in Sri Lanka. I'm not complaining but our days were really turned into one big pub crawl. But instead of crawling we just sat in one place and drank as many G&Ts as we possible could. On one of these nights we decided to have Lobster for dinner. We never had a lobster so it was a good call. In the end we didn't eat any of these marvellous creatures but instead we had a fish so enourmous they couldn't fit it on one plate as its tail was hanging over my plate. And we also had half a dozen of tiger prawns. They were as big as my palm. It was waaaay too much food for the three of us. The fish was called 'miau miau' or 'maui maui'. Something like that. I remember the letters but not the order. I'm kinda struggling to remember names in Sri Lanka. I just cannot remember the order of the letters. They are all there but sort of mixed up. I have trouble especially with city names. While I'm writing this post I'm already up north in a city called Anuradhapura. The only reason I could write it down correclty is that I googled it. Anyone asked me where I was going I just said random names. Not on purpuse but because I cannot remember them. We have an inside joke with Zandi. We renamed Sri Lanka to Arilankada. Why? Before our trip we would messenger a lot about Sri Lanka and one day one of us, I think it was me, was so drunk that Sri Lanka becama Arilankada. It might have been Zoltan, but who cares. We are friends. It was definitely not Andi. She is a lady and the cleverest of us. It doesn't mean she is not creative but… Ahh, I let it go…. It was us who came up with Arilankada.
I have to think really hard to remember what else we did in Unawatuna. Not much I guess. But one night is definitely worth remembering. It all started with drinking. Who could have guessed? We saw a big glowing neon sign on top of a little mountain saying 'Roof Top'. Well, it must be a bar or a very bad advertisement so we got ourselves a tuktuk and couldn't wait to be on top of something. Our tuktuk ride was probaly the scariest ever. He wasn't really sober but he was driving twice as fast as normal. The guy was driving like there was no tomorrow. Maybe there wasn't any for him but we still wanted to spend a few more years on this lovely planet. It must have been a miracle that we survived. We don't know what happened to the guy once we paid the fare.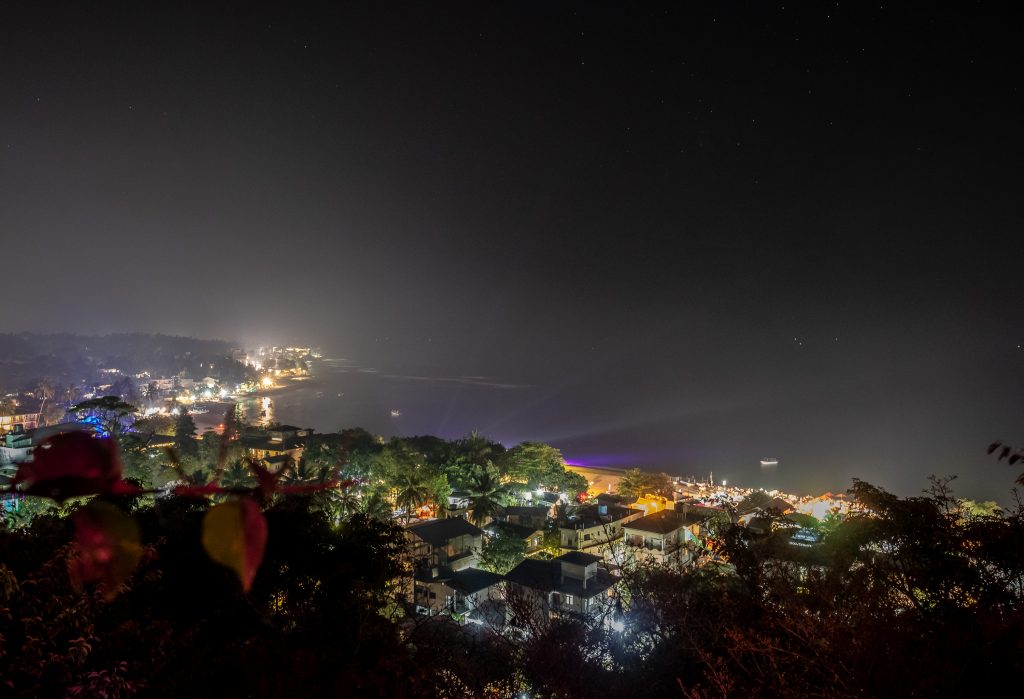 The bar was deserted. There was only one guy there and we hoped he was the bartender otherwise we were screwed. The view was breathtaking. We were above Unawatuna and we could see the lights from the town beneath; the sea, or at least something very dark presumably the sea; and the sky full of stars around us. Comfy cushions and places we could just lay down. We ordered a few mohitos and a beer because they didn't have gin if I remember correctly. It was perfect. Maybe the music could have been better butut the guy offered that we could put on any music we like. I usually hate being the person choosing music but I do it anyway. Also, a party usually ends very badly if someone asks the dreaded question: 'can I just have one track, pleeeeese?'. It means the dj is shit and it becomes a shitty party soon as everyone has different taste in music. But Zandi and I like the same music so I wasn't worried too much. We have a favourite song called 'Friends' mixed by a DJ called Solomun. As I was drunk, pretty drunk at this point I started dancing. Just a bit. Not too excessively. Once the track finished I thought what the hell, why not. I put on another track, But I was very cheeky as I chose a mix which was 2 hours long. Well, it's only one song.
Half an hour later a few more people arrived. Five or six Russian guys and a girl. I was still dancing and hoped they wouldn't change the music. They didn't change it as they really liked it so they started dancing too. It was so unreal. People partying for the music I chose in a roof top bar in Sri Lanka. I was so happy and drunk, I started buying drinks for everyone. Yeah, I do that sometimes. Maybe all the time… Obviously, we ended up talking to each other and dancing together a bit too. I cannot remember how much we drank but I guess it was at least 25 arracks and a dozen of other mohitos and beer etc. The bartender was drinking with us too which probably wasn't a good idea as he didn't write down anything we ordered. When we asked for the bill he was just guessing. I'm pretty sure he forgot half of it. We didn't want to argue as everybody should focus on their task at hand. The guests should drink and the bartender should make notes of the orders.
After the 2 hour mix finished I decided to put on another 1 hour long mix. I cannot recall at what time we left but it was definitely more than 3 hours after we arrived. I always wanted to dance to that music as I never heard it live. Well, it wasn't live either but I always listened to Solomun at home or while travelling. And it was fricking cool to dance barefoot in 25 degrees to his music while watching the starry sky. Once I had enough we put on another 2 hour mix for the Russains so they can stay and carry on partying. I have no recollection of how we got home. Nada.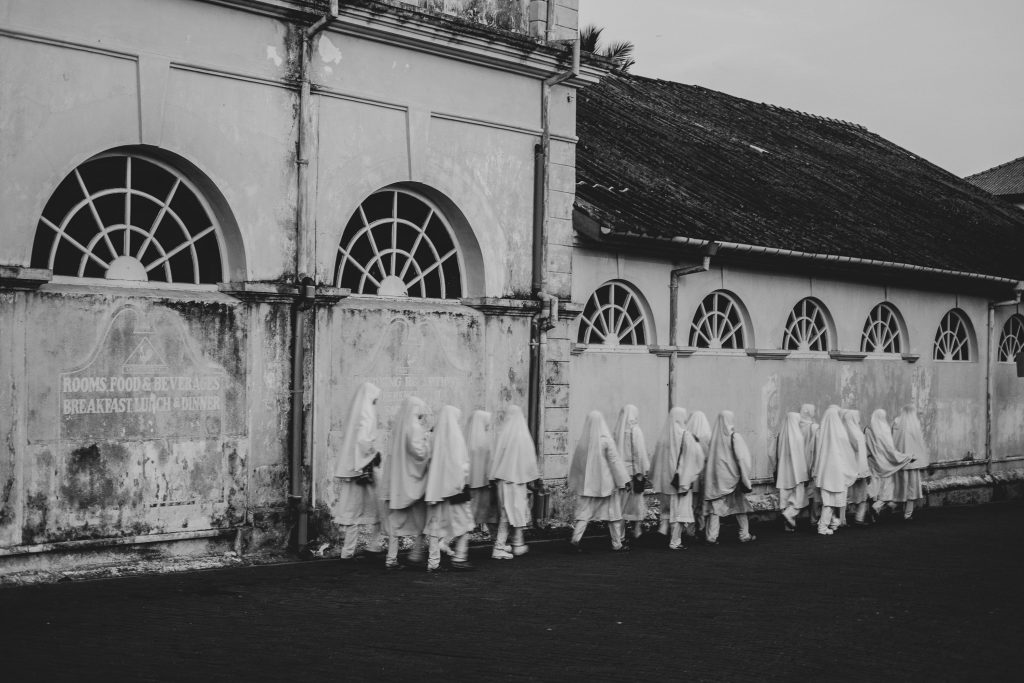 The following day we left Unawatuna and travelled to Galle which Zandi really wanted to visit before they left Sri Lanka. We stayed in the Fort area which kept its colonial look from the Portuguese era. Then it was occupied by the Dutch then the Brits took over. It looks like a mixture of everything. The little streets are now full of guest houses, cafe places and souvenir shops. Not many bars. We only found two so we had to take a tuktuk to find a liqour store and buy a bottle of gin as we didn't want to stay sober. Not even for a minute. After a little sunset stroll on the embankment we had our predinner in a small indian restaurant which was a bit of a disappointment. They didn't have anything I wanted to eat so I had to choose whatever they recommended. The view, however, was spot on and we even had a little hungry cat around us.Unfortunatelly she was chased away by one of the waiters who was throwing paperballs at her.
We kept on searching for bars but we didn't have any luck so we had to drink our gin on the roof terrace of the guesthouse. We were joind by the gekkos at this point. No cats. While Andi was sleeping we managed to get wasted with Zoli and for good old times we watched funny videos on youtube. Like we would do back in Budapest. What a night!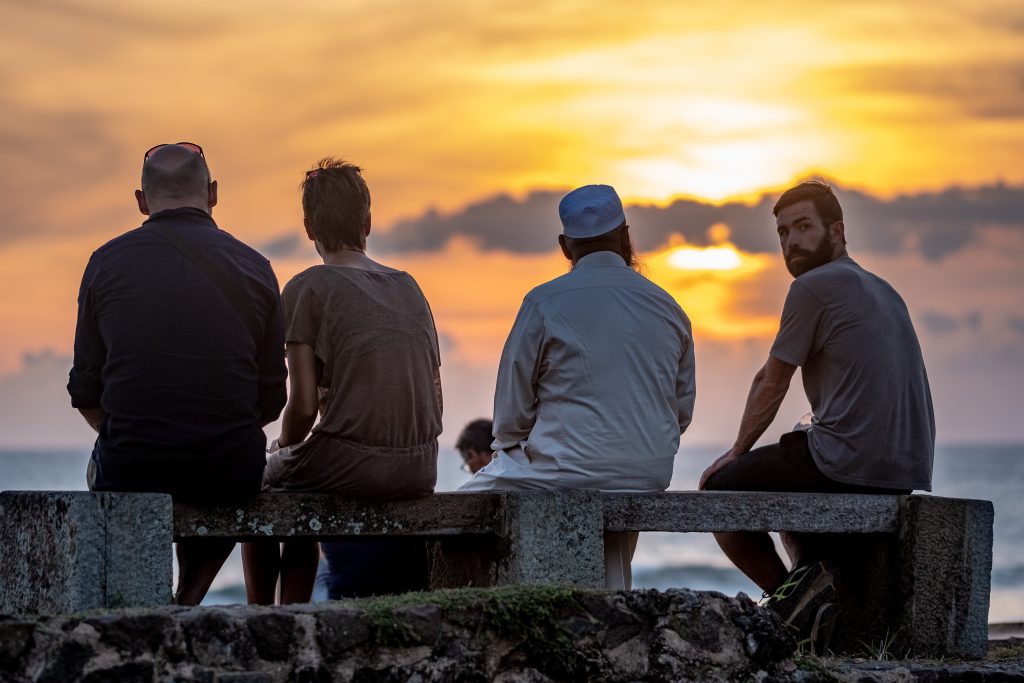 The following day we went to the train station to buy tickets back to Colombo. On the station a random guy, there is always a random guy at stations, quickly offered his help and said there were no trains back to Colombo that day. It was like 10am in the morning. No more trains? Are you serious? Then I realized he was just a taxi driver and that's how they try to trick the tourists to take a taxi instead of the train. I got many of these helpers during my travels. I get it. They need money. That's their business plan. Sometimes it works sometimes it doesn't. But there is always the odd tourist  they can trick. Or maybe it's not a trick. Anyways, once we sorted out our tickets,  there were at least 5 more trains back to Colombo on the day, Zandi did some last minute souvenir shopping  which I was assisting  by lending them some money. I didn't want to buy stuff so early on only to carry extra stuff around Asia. We then hopped onto the train and Zandi began their long, but not long-awaited journey back to reality. Andi slept all the way back to Colombo while I was busy watching two Japanese girls' near-death experience. Which they didn't realize it was but they should have realized that what they were doing was more than dangerous. Obviously, they wanted to take the ultimate never before seen, best ever possible selfie in the world by hanging out of the moving train. Even the guard on the train told them not to do that as it was dangerous but  they still kept on trying to die. As I didn't really want to see their head exploding I stood in the other door and tried to take the shittiest selfie ever taken in the world. I succeeded. My face is not even in the photo. But I can clearly see my left earlobe.
I stayed at the same hostel in Colombo as when I arrived to Sri Lanka a week or so before. It was perfect for that price and I kinda liked the vibe of the place. We agreed that Zandi could leave their backpacks till midnight without paying anyting as they were leaving early in the morning. And we got a taxi for them too. For a good price! We only had a few hours left till midnight so we did the only thing we could in a short amount of time. We headed back to town for a last gin and tonic. We drank at least 6 last gin and tonics in two different places.
Once the time came we said our goodbyes and I waved and watched them leave for the airport. I stayed. It's usually the other way around. I'm the one who leaves Budapest to London 2am in the morning and they watch me leave and wave. I hope they wave… I stood there and it was a strange feeling. I'm grateful that I could spend a little bit more than a week with them.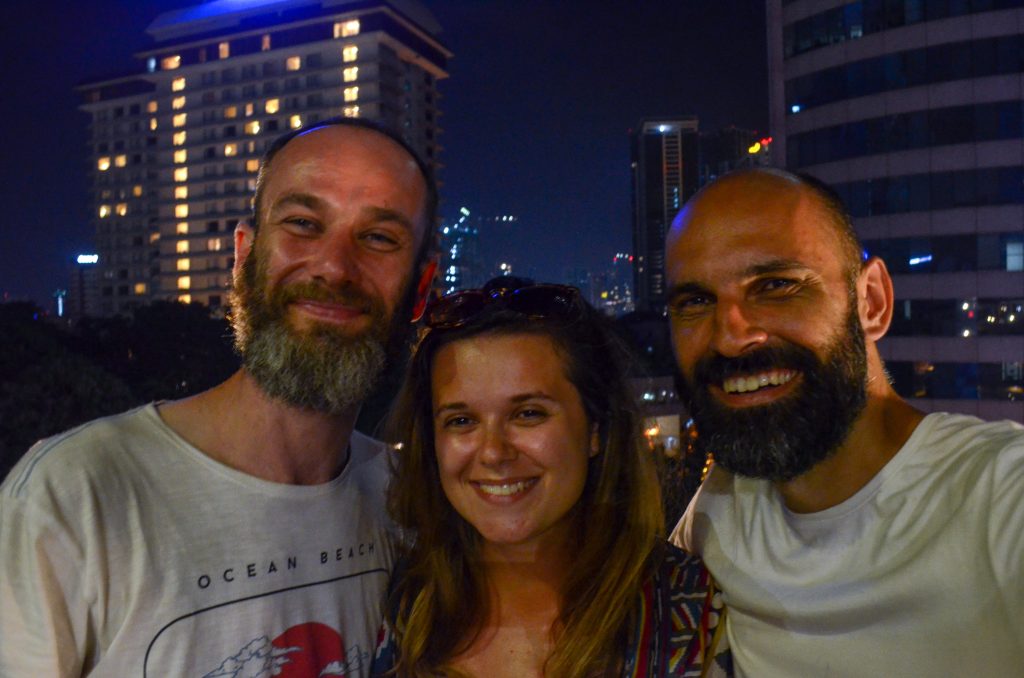 It was fuckin' awesome drinking with you in Arilankada!